Takashi Azuma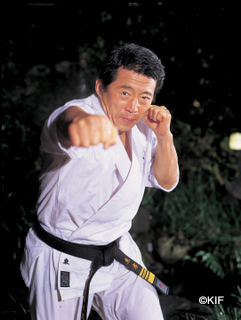 Head director of International Kudo Advisory committee.
Head director of International/All Japan Kudo Federation
Founder/Grand master of Daido Juku.
9th-dan Kudo, 3rd-dan Judo
Based on the belief that [keeping on training the mind and body aside from all ideology is the way for strike-based martial arts to gain acceptance in society], Master Azuma leads by example through direct instruction in the dojo.
Profile
1949

Born in Kesennuma city, Miyagi prefecture, Japan.

1971

Enrols in Waseda University's night courses with a major in English literature.

1972

Enrols in the Kyokushinkaikan's headquarters. Further ranks 6th at the First World Full Contact Karate Open Championships and 4th at the 2nd World Full Contact Karate Open Championships.
While at the time it would have been usual to retire as an athlete and focus only on a Branch Chief role, keeps both hats and goes on to win the 9th All-Japan Full Contact Karate Open Championships.

1981

Proposes and advocates Kakuto Karate (Combat Karate) based on realism, safety, and appeal to the audience. Founds Daido Juku in Sendai, Miyagi prefecture.

1986

With the nationwide expansion of Daido Juku, moves headquarters to Tokyo.

1993

Holds the first international seminar in Vladivostok, Russia. This marks the starting point of Daido Juku's worldwide expansion.

2001

Following the worldwide recognition of Daido Juku, introduces the more accomplished, comprehensive martial arts/budo Kudo. The First World Kudo Championship takes place the same year.

2013

At a ranking examination, is elevated to the rank of 9th dan, the highest rank in Kudo.
Last updated:  Mar. 2014